MinecraftEdu 1.5.1 is now available!
After a long winter of bug fixing, polishing, and cramming in new features, we are delighted to announce that MinecraftEdu has been updated.  As always, MinecraftEdu customers can grab the latest version on our Members' site. You can see a detailed changelog on our wiki, but here are some of the biggest additions and improvements: Based on Minecraft 1.5.1 (we caught up, woo!) Support for...
MinecraftEdu: How to Connect with MinecraftEdu →
From the official MinecraftEdu news feed: The past several months have been busy ones! Schools from all corners of the Earth have purchased Minecraft from us and are embarking on amazing projects.  In fact, we are rapidly approaching our 1000th school!  The game is being used in literally every subject area across all age groups. We consider it part of our mission to network these...
Off to Paris... and some "thanks".
My blog has been sorely neglected for far too long.  I do apologize.  But I thought I'd dash out a quick note to reflect on a few things.  And perhaps give thanks as us Americans are prone to do on certain Thursdays in November. I've just come from my parents' house where I enjoyed a delicious Thanksgiving dinner with my family.  I'm now sitting at Liberty International...
Come play MinecraftEdu! →
minecraftedu: We are really proud of how far MinecraftEdu has come in a short time, and so we're excited to start showing it off and hearing feedback. You can have the chance to play it for yourself at two completely free events… Read the rest..
MinecraftEdu: New Features and Summer Plans →
minecraftedu: Things are moving fast for the TeacherGaming Team. As we begin Summer, those of us with academic jobs are now able to concentrate fully on MinecraftEdu, and we've welcomed several interns to our headquarters in Finland. About a month ago we released a MAJOR update to MinecraftEdu that brought… Read the rest!
Watch my panel
UPDATE: You can now watch my entire panel discussion (and the rest of the conference) right here: http://events.theatlantic.com/technologies-education/2012/  (direct video link) ORIGINAL: I'll be appearing at the Atlantic Technologies in Education Forum in Washington D.C. on Tuesday.  I'm taking part in what looks to be a really interesting panel on the roll teachers play in...
Gaming teacher case studies
Recently, I had the privilege of being interviewed by Jessica Millstone a filmmaker and researcher working with the Joan Ganz Cooney Center.  She, along the good folks at BrainPOP such as Allisyn Levy pioneered a groundbreaking study into teacher attitudes towards gaming.  They've just made public their survey results and it's a fascinating read.  Lots of confirmation that we gaming...
MinecraftEdu collaborative server project for...
The talented and handsome @warrenbez has taken the initiative to start a great server project for teachers using MinecraftEdu.  I'll let him explain: I am setting up a MinecraftEDU server that can be accessed by any teacher. The hope is to have teachers collaborate and create a Minecraft unit that can then be made available for download. I think that having teachers collaborate on a...
Worth a read (and listen!)
Lately I haven't been posting here when me or my projects are covered in the media.  Mostly because I got sick of talking about myself.  ;) But there have been two really good pieces lately that I'm proud to share. The first is an article by the prolific and talented Audrey Watters of Hack Education called MinecraftEDU: Minecraft for the Classroom.  Audrey was one of the first...
Wanted: Teacher and Student Testimonials
Students and fellow teachers!  I need your help for a super-secret, super-exciting project that I'm working on.  I need a large number of testimonials and soundbites about why Minecraft is so great in an educational setting. I'm not looking for a lengthy dissertation.  I really just want a paragraph that sums up your own experiences with the game.  You can leave it in the comments of...
Trending Topic: Structured vs. Unstructured Play
Recently some spirited debate has unfolded between several teachers whose work I admire and whose opinions I respect.  And there seems to be a rift forming about the "correct" way to use Minecraft in the classroom. I'm going to oversimplify things a bit, but here is the crux of the debate. One camp argues that teachers should take a "hands off" approach and just let...
MinecraftEdu: New version soon! →
Repost from MinecraftEdu: We've been quite busy preparing the first public release of MinecraftEdu. You can see screenshots of the latest build below. This version will first be sent to our pilot schools in the next week, or so. And then after some testing, we will make MinecraftEdu available to the general public! Read more…
Looking for ideas
What would make Minecraft the perfect tool for your classroom? This post is mainly aimed at other teachers, but we'd welcome anyone's input! My MinecraftEdu colleagues and I are hard at work on our custom version of the game.  The focus has been on a powerful (yet easy to use) set of tools to help teachers utilize the game in their classrooms.  But so far, most of our additions have...
This just in...
I'm really bad at updating my blog.  It's unfortunate. I am much, MUCH better at getting out my thoughts (and links to interesting content) on Twitter.  Please consider following me there if you aren't already.  That is… if you are into that sort of thing.  If not, I totally understand.  No pressure.  I'm coming on too strong, aren't I? Anyhoo, I'm...
Digital game based learning: Minecraft English -... →
gamebased: After yesterdays final lesson in minecraft english I did an evaluation with the students. I have also regrouped and reflected on my failures, and here's a list of things I will be considering for my next course:   Server, server, server! Before I start next time I will need to run some…
MincraftEdu's upcoming features.
Wow.  Things have been moving very fast for me.  I have a backlog of Really Cool Stuff that I need to post on here.  I will do that very soon.  But for now, an update from Aleksi Postari about one of the things that are keeping myself and my partners busy.  Aleksi is the Lead Developer for MinecraftEdu.  Check out the progress of our custom Minecraft mod designed for educational use! Aleksi...
Paging English/History/Theater Teachers...
@townesy77Megan Townes I built the Globe Theatre in #massivelyminecraft this week: #lovethisgame
A MineraftEdu Beta Report! →
minecraftedu: A Danish teacher using Minecraft to teach the English language dives in head first… using MinecraftEdu! Read all about it on his Digital Game Based Learning Tumblr. He mentions that the clients crashed a few times. This is most likely due to a memory allocation error that is fixed in the next version. Keep the feedback coming! ~Joel
Recent coverage and future happenings.
I have been really bad about posting here lately.  Starting your own international company from scratch will sure keep you busy! But I found myself interviewed by some rather high-profile outlets recently that I wanted to share. U.S. News and World Report spoke with me while doing an article and Game-Based Education, in general.  It was a good article.  Except the "expert" they found...
Introducing MinecraftEdu.com! →
minecraftedu: Hello there! I'm Joel Levin, the so-called Minecraft Teacher. And I'm incredibly excited to announce the launch of MinecraftEdu.com! Over the past several months, I have been collaborating with a small team of educators and programmers in Finland. We have been given the incredible opportunity to work with Mojang AB, the creators of Minecraft.  Our goal is to get Minecraft into as...
Another teacher discovers the power of Minecraft! →
Student uses Minecraft to bring history to life.
I got a great video sent to me from a teacher and student that I really wanted to share!  Here it is: And equally inspiring was the letter from the teacher that accompanied the video: Hello Mr. Levin, My name is Erik Shaver and I am a social studies teacher at Achieve Virtual Education Academy in Indiana. We are the state's first virtual public high school and I wanted to share a video...
Starting a Minecraft club at your school
I got the following short email from a student in California: Hello My name is Boomer and I'm interested in starting a Minecraft club at my school but how should I introduce the idea to my teacher? Here is my response: Hi there! I would approach your teacher and tell him/her that there is a game you enjoy that you think has a lot of potential in a school setting.  Make sure your...
Great read about setting up Minecraft at school by... →
Looking for a server partner
A teacher in Finland left the following message in a comment.  He runs a Minecraft club and hopes to find another school to partner with.  Preferably in an English-speaking country so that his students can practice their English.  Interested, read below (and don't forget to read the humorous PS at the bottom)! Hi I have started using the minecraft at the local art school. We work as a...
Advice for starting a Minecraft club
I get asked a lot for advice by teachers about how to get started with Minecraft.  But everyone's situation is a little different given the ages of students they teach, resources available, the acceptance of gaming culture at their school.  It's hard to generalize. I am, in fact, working on some *not-so-secret-anymore secret resources* that are aimed at helping the largest number of...
Livestream'ed conversation tonight.
Tonight I will be talking with Precipice Games, a non-profit that is "helping gamers, developers and the world through the art of game creation."  They have formed a wonderful and supportive community that not only plays games, but makes them too.  And their focus is on games that have a positive impact on the world. I will be talking with them and touring their Minecraft server...
Great dad writes a great article.
David Pakman is a venture capitalist, a dad, and a nexus of digital media.  Recently, he has been playing Minecraft with his kids.  He wrote a touching and insightful article about his experiences that is worth sharing.  All parents should read this!  Here's a snippet: It was Father's Day after all and I'd rather be playing with my kids than not, so I launched a local server in our house....
Back to School...
A new school year is about to start and I feel the usual mix of emotions.  Excited to tackle a new year full of fun with the kids at school, and sadness that my Summer break went by at lightening speed. My schedule is still a bit up in the air.  I'm not 100% sure when I'll be seeing my 2nd graders in computer classes this semester, or in which computer space.  So I'm planning my...
A quick thanks.
I recently gave a presentation at the 2011 Games in Education Symposium held in Upstate New York.  I will talk a bit more about the experience in an upcoming post, and hopefully have a video of my talk. But I'd like to at least thanks the truly awesome folks at 1st Playable Productions.  They put on this groundbreaking conference every year (for free!) because they believe in the concept....
Hosting a server for your kids.
Hey folks.  I've been pretty bad about updating the blog.  I'm going to try to start posting more quick little bits as they come up.  Don't want things to get stale around here! In that spirit, I'd like to share an email that is typical of something I get asked a lot. Many parents have contacted me for guidance about getting a home server running for their kids and their...
Of Pyramids and QuakeCon...
I finally recorded a follow-up to my Worthy Builders video that everyone seemed to enjoy to much.  In the new one, I show off the buildings that my students created and then show you the Fabled Golden Pyramid of the Ancient Minecraftians that they got to explore as a reward.  Have a look: Now an update. On Tuesday I'm going to be making my annual pilgrimage to QuakeCon, the world's...
Afterschool Server Tour
I recently posted videos showing off student creations from my two afterschool classes.  The 90 minute classes met once per week for 10 weeks.  While I would occasionally have an activity or a building project planned, I generally allowed the students to play the game however they wished. Here are the results.  Part 1: And Part 2: I also recently started another video series on YouTube...
Summer... break?
Classes are over, but that doesn't mean I can relax.  In fact, I have an incredibly busy Summer planned. Some of my obligations are personal, some professional, and some stem from my work with Minecraft.  I don't want to rest on my laurels*.  I want to take whatever momentum and attention I've generated and do something positive.  I've had conversations lately with very...
Massively Minecraft
A new community for educators has been launched by my fellow Minecraft Teachers, Dean Groom, Jo Kay, and Bron Stuckey.  They are attempting to lay the groundwork for getting kids, parents, teachers, and schools playing together. The site is called Massively Minecraft and it appears to be a perfect place to get some real experience working with kids in Minecraft.  From the site: You are invited...
Student report about Minecraft
Justin, one of my second graders had to do a report about something current and meaningful to him.  We call it a "news share".  He chose to do it on Minecraft.  Take a look! (click to embiggen!)
Video: Worthy Builders
I put a new video on my YouTube channel. It's a lesson I did recently with a group of 2nd graders who had only been playing Minecraft for a few weeks. In fact, they had never been outside of my Tutorial World before. This is a good example of how I try to layer a story into my Minecraft lessons in order provide a context for the children. I find that Minecraft by itself is too open ended...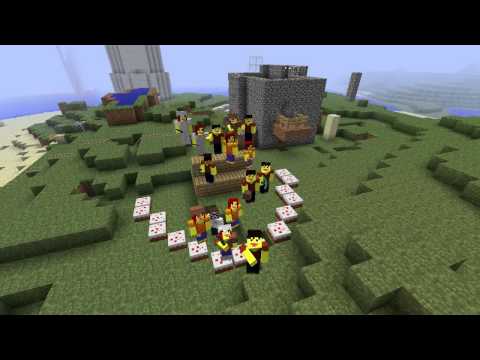 My Tutorial World is now available.
After a great many delays, the Tutorial World, made by me and @GraphicsMatt, is finally available for download.  This is more than a simple training exercise, it's a whole world to explore! Beyond that, it's designed to be played by a single person OR an entire class being led by a teacher.  This world (and variations of it) are what I use personally in my own classes. Tonight...
Video: Sensory Overload!
I posted a different kind of video earlier today.  But it was so simple to do…  I don't know why I didn't think to do it sooner. Let's see if you folks can handle it. Can you watch 13 kids (and me) all play Minecraft simultaneously? I doubt it! But give it a try: You'll want to go fullscreen for this one. This is from one of my afterschools, so it's much...
Kotaku!
A couple weeks ago, I gave the respected gaming website Kotaku full access to my classroom for a day.  This article and video are the result: We Took a Field Trip to the Minecraft School This is the first time my actual students have been shown online (except for their Minecraft avatars).  Go check it out!
Big Things - Podcast and Documentary
My blog may have been quiet lately, but don't let that fool you.  Big Things have been happening for me.  My head is spinning. First of all, I finally had my guest appearance on The Shaft, the world's bestest Minecraft podcast.  I had a great time and I managed to not yammer overly much.  In fact, I think I somewhat coherently explained what it is that I do — something I often...
New classroom video!
I posted a new video of me teaching on YouTube. This video might be a bit drier than some of my previous ones.  It's a lot more of just me talking.  Jump ahead to 12:15 if you just want to watch kids building.  ;) This is from one of my afterschool classes that meets once a week.  There are 14 second graders (age 7 and 8).  I have 90 minutes with them which is twice as long as I usually...
Back on The Shaft... fingers crossed
My guest host appearance on The Shaft has been rescheduled for: Friday, May 13 at 10:00pm Eastern on http://deadworkers.com/live/ I'm trying not to let the date concern me, given what happened last time.  Barring any other natural disasters, I'll be on the show discussing All Things Minecraft. If you can't watch it live, it'll be available as a direct download, on...
Help test the Tutorial World
For the next few days, I will be leaving the Tutorial World running on my public server.  You can connect to it in Minecraft at ' mythico.com '.  It will likely go up and down a few times and will almost certainly be reset quite frequently.  So don't build anything on it that you would want to keep.  And for those of you awesome folks that helped me test in the past… there...
Making progress
@GraphicsMatt and I have been working on some new content for the Tutorial World.  The ultimate goal is to provide an area to practice crafting.  Here's a little preview: Lots of cool things to play with.  And yes, I am still planning to make my entire Tutorial World available for public download.  There are still a few more areas that are "broken" or that need to be...
Student poem about Minecraft
One of my students, Harrison (age 8), created the following poem about Minecraft for a writing project: Create stones, swim in water falls it's awesome, fun, crazy jump and die, or meet friends build mine carts, mine tracks, swords and beds build a house to survive the night train wolves TNT explodes when you touch it It's spectacular
Student Alamo project made with Minecraft
I just watched a video that really blew me away.  It's from 'Luclin', a well-known Minecraft Youtube'r.  Luclin's son Ethan created an amazing scale replica of the Alamo using Minecraft and submitted it for a school history project.  The level of detail is remarkable.  And to hear Ethan walk us through his creation is delightful.  It's clear that he has a really...